Radio Frequency Skin Tightening, Body Contouring, Non-Invasive Vaginal Rejuvenation and Ultrasonic Cavitation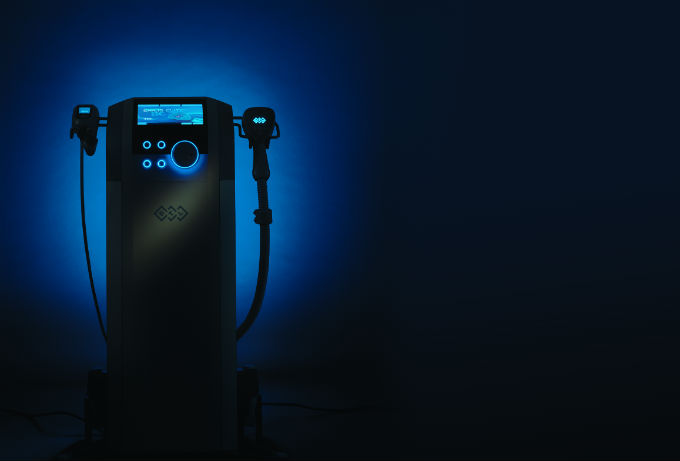 Skin Tightening
Breakthrough therapy for non-surgical facelift and body contouring often with visible results after the first session.
As we age, we lose collagen within the skin and as a result, skin becomes looser over the face, jawline, neck, arms, abdomen, flanks and thighs. Tightening this skin used to require painful treatments with significant downtime for healing.
Exilis™ is a FDA approved device offering a non-surgical solution using radio frequency (RF) energy for skin tightening. Look years younger with Exilis™, targeting and tightening areas on your face including under-eye, jowls, face wrinkles and neck. At the same time Exilis™ stimulates and strengthens the collagen network which improves skin laxity and texture.
Exilis™ is also an FDA approved device offering a non-surgical solution using radio frequency (RF) energy for fat reduction anywhere on the body. The procedure uses safe radio waves heating your skin targeting the fat cells. Area's that can be treated include thighs, back, abdomen, buttocks, and arms. This thermal energy speeds up the metabolic activity of the fat cells causing them to shrink, at the same time improving skin laxity.
Before/After Gallery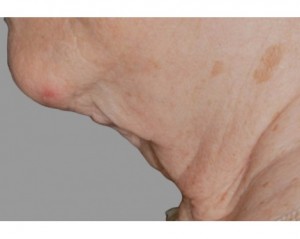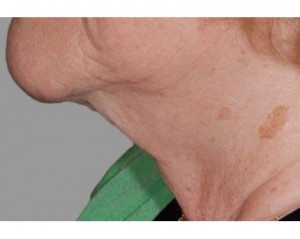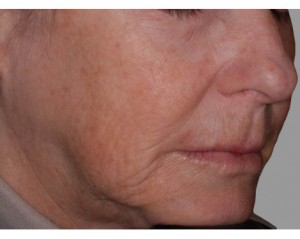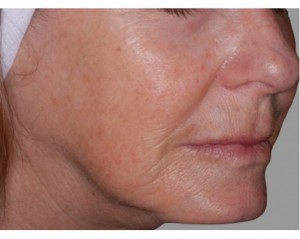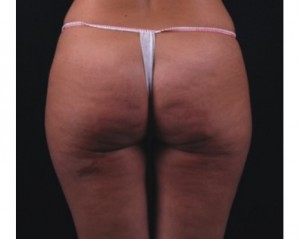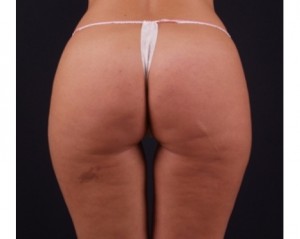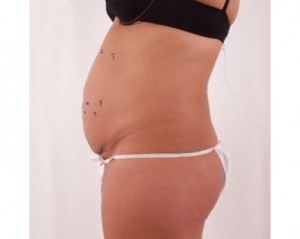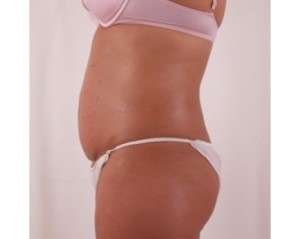 You've probably heard about freezing your fat off with Coolsculpting™ by Zeltiq™, but you may not have heard of heating fat and tightening your skin with Exilis™ technology. Exilis' monopolar radiofrequency and advanced cooling system allows for deep penetration within the fat cells without the risk of burning your skin. This innovative technology is non-invasive and safe for all skin types. Patients will see improvement after just one treatment session, but we usually suggest a package of four treatments spaced a couple of weeks apart to produce maximum results.
While there is no downtime associated with Exilis treatment, it is recommended that patients maintain, if not increase, their physical activity following each session. By engaging in exercise and continuing to remain hydrated after Exilis, skin tightening patients ensure that their metabolic exchange remains high: speeding the reduction of fat volume and skin laxity.
So How Does Exilis Work?
Patients are often skeptical of non-invasive skin treatments, which is why it's important for us to explain the science behind it. It is important to note that Exilis is FDA cleared for improving skin laxity and the appearance of wrinkles, and a majority of Exilis patients also report a reduction in fat volume. Fat deposits form due to metabolically inactive cells. The heat emitted by the Exilis™ device causes the targeted fat cells to breakdown (a process called lipolysis) and disperse. The thermal energy also boosts the body's natural ability to produce collagen; not only will your fat cell volume decrease, but your skin will tighten and become younger-looking.
Exilis Skin Tightening and Body Contouring FAQs
What parts of the body can be treated with Exilis?
Exilis' built-in cooling device makes it safe for reducing lax skin and excess fat anywhere on the body, including the face. Areas that can be treated include the face and eyes, neck, jowls, abdomen, arms, thighs, buttocks, love handles, and fat rolls on the back.
Are multiple Exilis treatment sessions necessary?
Exilis treatments are recommended in packages of 4 to 6 treatments to achieve the best effect. Each treatment is a quick 30- to 45-minute visit, scheduled 7–14 days apart, and there is no downtime following the procedure.
How long will it take to recover from Exilis treatment?
Exilis patients are usually back to their regular activities right after treatment. The procedure is pain-free, but we do suggest drinking lots of water prior to the treatment to avoid dehydration.
Does Exilis treatment hurt and when will I see results?
No, Exilis doesn't hurt. Patients report a warm sensation, but the cooling device prevents most discomfort and makes Exilis safe for all skin types. Exilis results are long lasting and though you may see immediate results, maximum results are experienced incrementally over 3 to 6 months after the last treatment.
How much does Exilis treatment cost?
Like other body contouring procedures, the cost of Exilis depends on the patient's specific needs. A patient who only desires facial rejuvenation with Exilis will pay less than a patient who wants to treat their tummy, flanks, and legs because the treatment area is smaller. A consultation is the best way for us to give patients an accurate price estimate, so schedule your consultation today.
Call today 561-990-7294 or book online.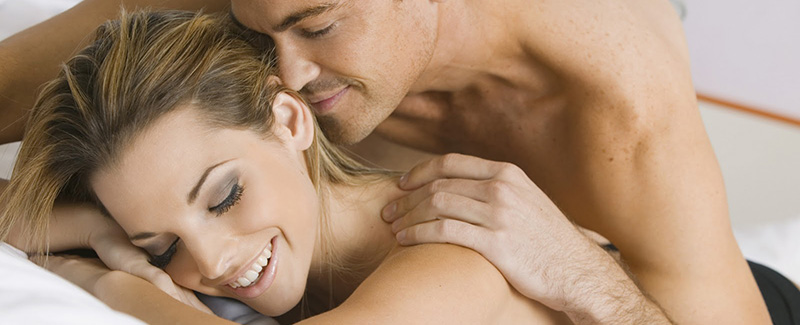 Non-Invasive Labioplasty Protégé Intima
Non-invasive, non-surgical labioplasty. While only some devices based on laser are used to correct the external look of vagina, women are demanding more and more frequently non-invasive methods to improve their most intimate body parts. The demand for vaginal rejuvenation grew up to 109% since 2012, according to the recent poll conducted in England.
Women who passed through the course of medical treatments – 80% of them announced significant improvement of external look of labia, while 60% announced significant improvement of sexual satisfaction.
PROTÉGÉ INTIMA – first non-surgical, non-invasive procedure of labioplasty and rising of sexual libido.
Exclusive technology EFC Elite system ensures giving of adequate energy into certain tissue layer. That enables to carry out effective treatment on high energy level, safely, comfortably, in the shortest time. The apparatus combines in itself RF-lifting (high frequency magnet field) and ultrasound that enables to increase significantly the results of procedures based on collagen reconstruction. Protégé Intima got FDA approval in USA for taking into use of independent dermatological and aesthetic procedures.
Action principle:
Deep and directed, completely controlled thermical impact on skin structure and cellular tissue of fat under skin by high frequency energy. Thanks to the intensive heating of all tissue layers in the treatable area the production of fibroblasts increases that favours the formation of new collagen and elastic tissues. The action of ultrasound improves lymph flow and bloodstream in the treatable area, better conditions are formed for the drainage of space between cellular tissue. The exchange processes in tissues will improve.
The result of neocollagen support is the increasing of flexibility and elasticity of the tissue of labia. Intensive local warming on the vagina entry improves bloodstream and stimulates nerve ends, at the same time increasing the sexual satisfaction.
How are the procedures conducted?
It is necessary to conduct four up to six procedures with the interval of 5-10 days for the treatment. One seance lasts about 12 minutes. About 6 minutes to every side of the patient`s vagina. Patient has to drink water in adequate amount on the evening prior to the procedure, on the day of the procedure and two days after it. During the treatment a patient has to feel the sensation of intensive warmth. The device can warm up until 40-42˚C on the skin surface. You can see the first treatment effects already after the first visit. The final results become perceptible 3-6 months after ending then treatment.
Advantages of given method:
Non-surgical, non-invasive procedure
Without anaesthesia, rehabilitation period not required
Painless, pleasant therapy
Tangible results after one seance
Ensures the effect for longer period
For all skin types
Indications for therapy:
Correction of measure of labia minora
Correction of measure form of labia majora
Labia asymmetry
Skin looseness on labia and around
Labia stretching caused by age-specific or hormonal changes
Existence of differences in the area of labia minora due to traumas, burnings
Reduction of sexual satisfaction and self-confidence
Contraindications:
Pregnancy (in all stages) and breastfeeding
Systemic diseases of connective tissue (scleroderma, systemic red lupus and others)
Acute diseases, fever
Inflammatory phenomena in abdominal cavity (in abdominal skin treatment)
Cardiovascular diseases at the decompensation stage, hypertonic disease
Chronic diseases at the decompensation stage
Atherosclerosis and tyreotoxicosis become evident
Diabetes
Syringomyelia
Immunosuppressive diseases
Use of immunosuppressive preparations and isotretinoin
Severe neurologic diseases (epilepsy)
Blood cloagulability disruptions, bleeding tendency, use of anticoagulants
Existence of implanted electrical devices in the treatable area (intrauterine spiral with metallic components)
Skin sensibility disorders
Cicatrized changes on the skin
Skin atrophy
Ulcers, scratches, skin integrity disorders in the treatable area
Any skin rashes (of infectious and non-infectious origin)
Morbid growths
Benign tumours (among them nevuses)
Thrombophlebitis, varicose disease
Swelling of superficial tissues
Body Sculpting With Ultrasonic Cavitation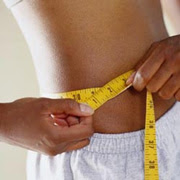 Ultrasonic cavitation is a non-invasive treatment which aids in the reduction of localized fat deposits. Using ultrasound waves, ultrasonic cavitation is ideal for people seeking fat removal from a specific area such as the hips, thighs, buttocks, stomach or arms and a more contoured shape.
How does Ultrasound Fat Cavitation work?
Gel is first applied, then with a ultrasonic cavitation hand piece emitting low frequency ultrasound wave into the fat cell. The minute vibrations produce tiny bubbles within the fat cells, disturbing the outer membrane, in turn causing tiny collections of fat to be expelled into the surrounding area.
This ultrasound cavitation treatment does not interfere with adjacent structures such as blood vessels and nerves and therefore is completely safe, although for some clients there may be a little discomfort associated with the noise during the ultrasonic cavitation treatment.
Several cavitation treatments are required and this is dependent on the desired result and the location of the stubborn pockets of fat. We have very attractive packages to assist you with your treatments, some with payment terms. Prices for these packages vary based on your desired outcome and the number of areas you wish to treat.
*Results may vary from individual to individual
Don't Be Shy. Get In Touch.

Please call us at 561-990-7294 for more information
or schedule an appointment now


Contact Us